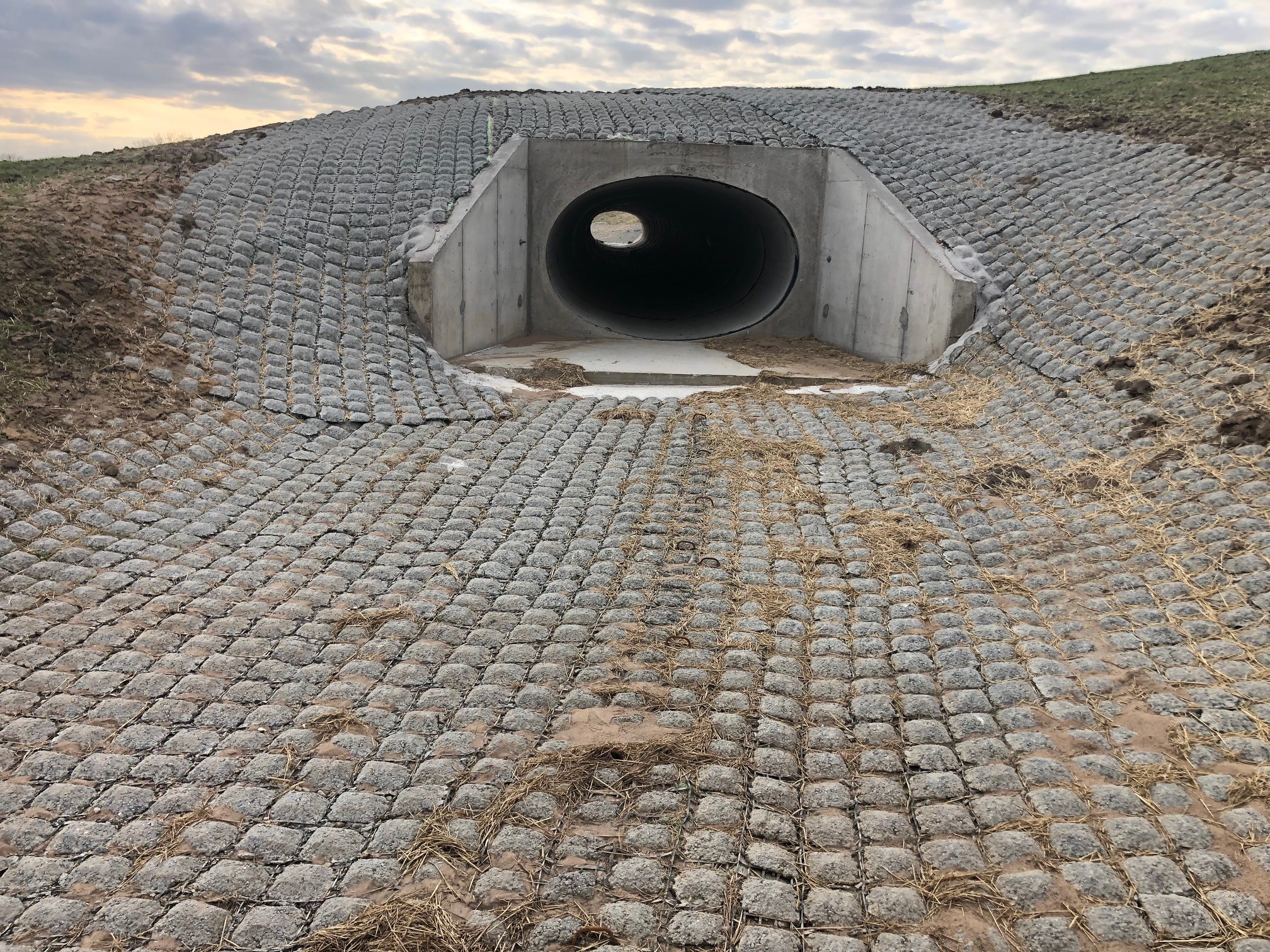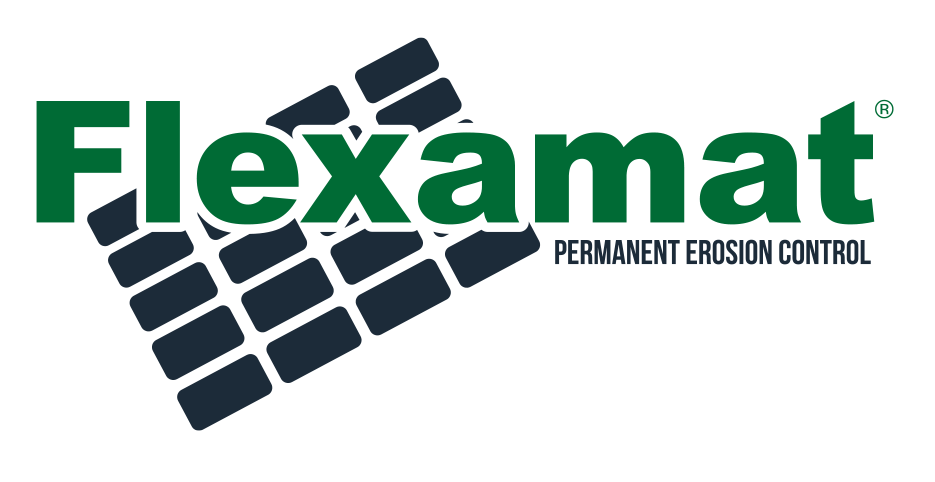 Flexamat is now offered by Lee Supply Co. Inc. for permanent erosion control. Flexamat is designed for a variety of projects: Airports, DOT Roadside, Driveable Surfaces, Energy Sectors, Inlets/Outlets, Landfill/Mine Reclamation, Shorelines, Stream and Riverbanks
Flexamat has proven results for effective, long-term erosion control. Flexamat is manufactured by Motz Enterprises, Inc. They have been in business for over 30 years and take pride in the performance of their product.
About Flexamat
Flexamat is a tied concrete block mat used for permanent erosion control. Flexamat is utilized for stabilizing slopes, channels, low water crossings, inlet/outlet protection, and shorelines. Flexamat offers permanent, hard armor protection with natural vegetation. Flexamat allows for phytoremediation and reduced thermal impact on the water shed. Packaged in rolls, Flexamat offers easy transport, reduced staging areas, and efficient installation.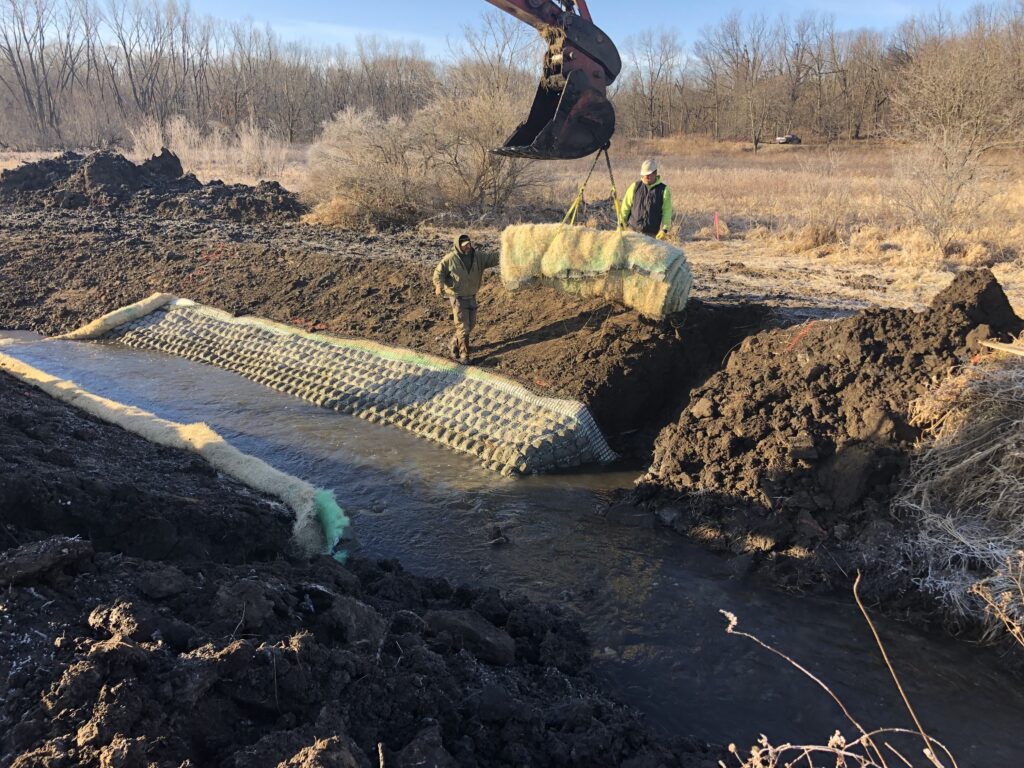 List of Benefits of Flexamat
High Performance
Initial installation capabilities: 30+ft/sec & 24 PSF
Cost Reductions
Low material cost, less labor with faster project completion
Environmentally Friendly
Vegetation allows for improved water quality
Easy Maintenance
Safe to mow, discourages graffiti
Improved Safety
Safe for pedestrians, motorists, & Wildlife
Low-Impact Development (LID)
Helps achieve MS$ permit requirements
Permament Erosion Control:
Flexamat consists of concrete blocks (6.5" x6.5" with a 2/25" profile) locked together and embedded into a high strength geogrid. A 1.5" spacing between blocks gives the mat flexibility and allows for optional vegetation growth. Flexamat is locked in place and can't be displaced like rock rip rap. It allows storm water infiltration and provides energy dissipation.
Reduced Construction Costs:
Flexamat provides a cost-effective solution with extremely durable concrete blocks reinforced with a high strength geogrid. Flexamat is simple to install with the material packaged in rolls to site specific needs. Site crews can install thousands of feet in a single day with readily available equipment. The compact nature of the Flexamat rolls allows for more surface area to be covered with less product, fewer transports, and decreased staging area on sites.
Vegetated Solution:
Working with nature and not against it allows for increased positive environmental impact. Utilizing perennial vegetation allows for the use of living plants for the removal, degradation, or containment of pollution in storm water (phytoremediation). Vegetation increases the infiltration of run of water into the soil and reduced the thermal impact to the surrounding watershed. Flexamat blends with the landscape and is safe for wildlife to walk across. The vegetation can be maintained with commercial mowing equipment or left to grow wild.
DOT
Flexamat armored roadsides are protected from becoming steep drop-offs dangerous to motorists, cyclists, and pedestrians. Unlike rock rip rap, vehicles can safely drive across Flexamat. Mowing crews can safely mow over Flexamat without fear of damaging equipment or shooting projectiles. Reduces the need for weed abatement programs in areas as well.
Armored roadsides
Driveable by vehicles up to 80,000lbs
Easily maintained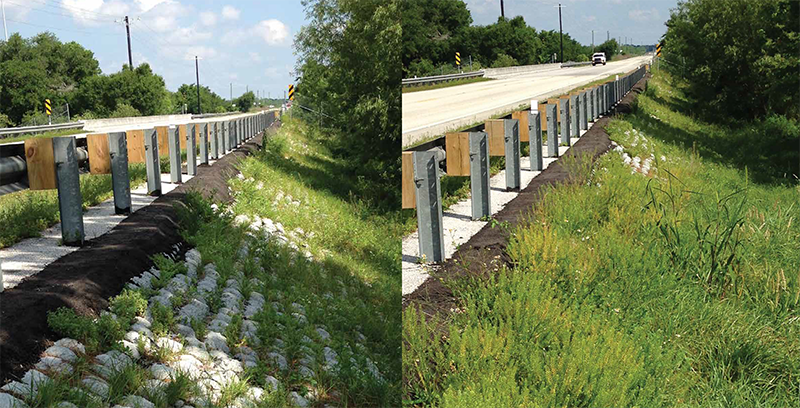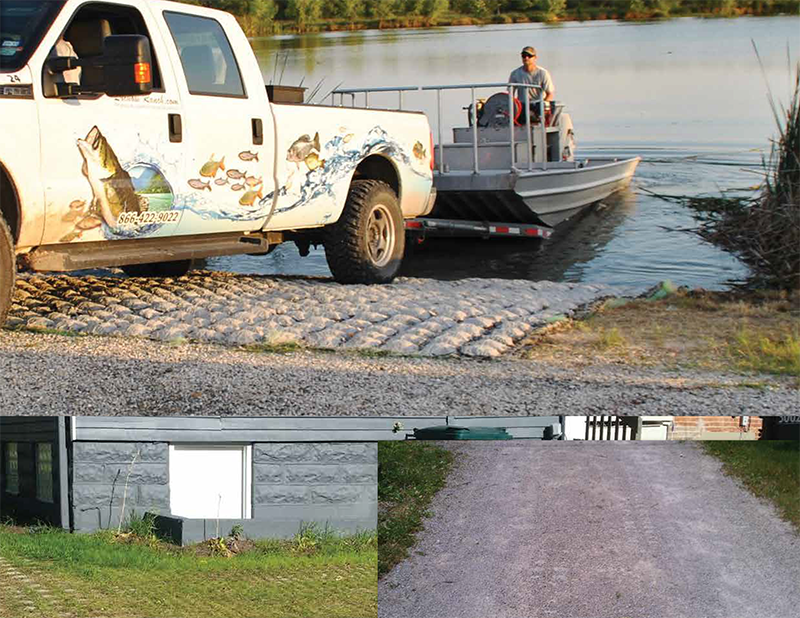 Driveable Surfaces
Flexamat can be used as a driving surface (access roads, ramps, parking areas) that is vegetated or infilled with crushed stone while allowing the infiltration of stormwater. Extremely durable (consisting of 5000 PSI concrete blocks in a high strength geogrid), Flexamat provides a stable, non-slippery surface able to withstand up to 80,000lbs vehicles.
Frequently used by energy and utility companies
Extremely durable concrete blocks in high strength geogrid
Provide a stable, non-slippery surface
Spacing allows for water infiltration
Energy & Landfill Erosion Control
Flexamat is used for permanent slope protection and for armoring perimeter ditches, letdown structures, spillways, and for perimeter runoff dissipation. Flexamat can be driven across with vehicles and equipment since it is locked in place while allowing for water infiltration and energy dissipation. Cost-effective solution for remote and difficult to access areas with compact transport, decreased staging area, and ease of installation.
Proven long term performance
Permanent slope protection around substrations
Permanent drainage solutions
Used for armoring perimeter ditches, letdown structures, spillways, perimeter runoff dissipation, low water maintenance crossings, waste water
Cost effective for remote/difficult access areas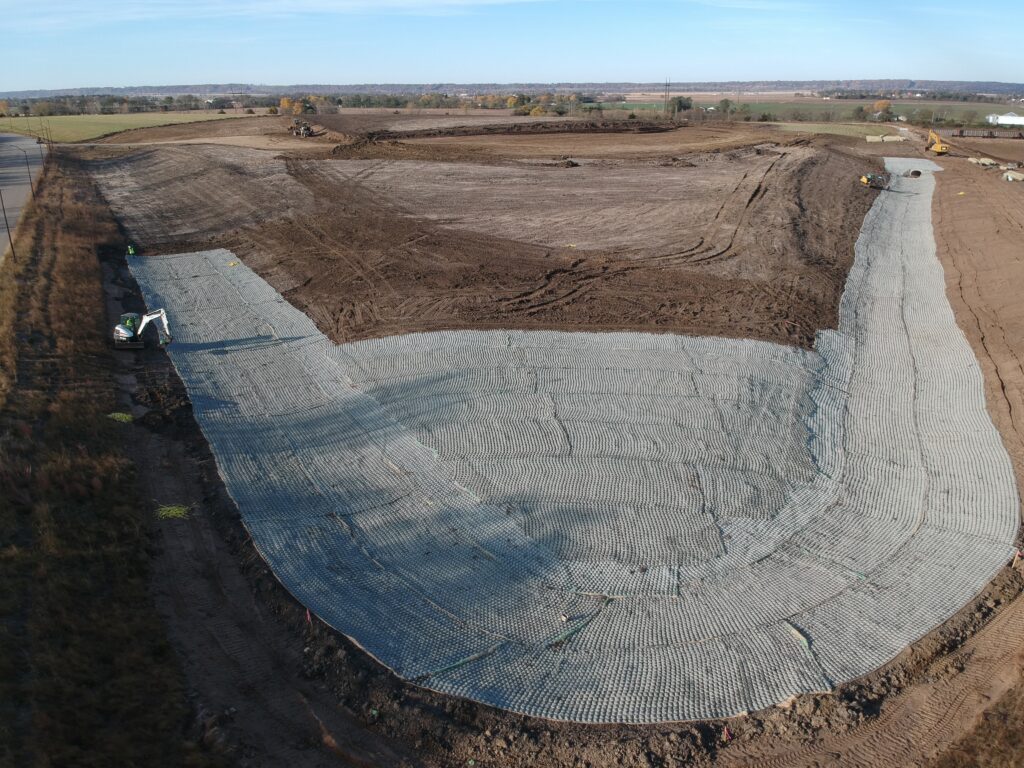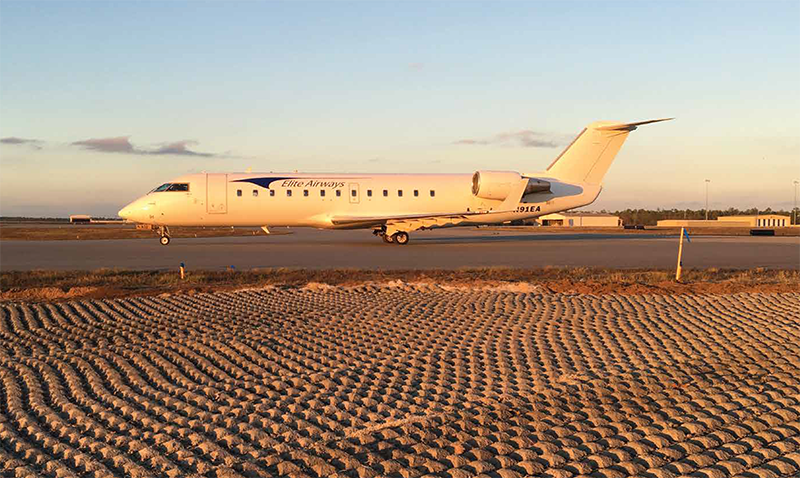 Airports
Flexamat meets FAA height restrictions within the OFA (obstacle-free area). Flexamat's fully interlocked blocks combined with their weight secure it in place even in high-velocity winds. Flexamat is easily maintained with or without vegetation while mitigating wildlife concerns other products might produce.
Meets FAA height restrictions for OFA
Secured even with high velocity winds
Mitigates wildlife concerns
Easily maintained
Flood Control
Flexamat prevents erosion in areas exposed to high flow, waves, or burrowing animals. Flexamat plays a vital role in flood control areas, especially critical areas such as major metropolitan and rural areas. The compact rolls allow for ease of installation in these areas with constricted or difficult access. Flexamat has proven to perform well in areas affected by hurricanes. Vegetation allows for an environmentally friendly solution and the safe passage of wildlife.
Used in large scale flood management projects by FEMA and USACE
Used in areas of high-flow, waves, or burrowing animals
Ease of transport/smaller staging areas
Environmentally friendly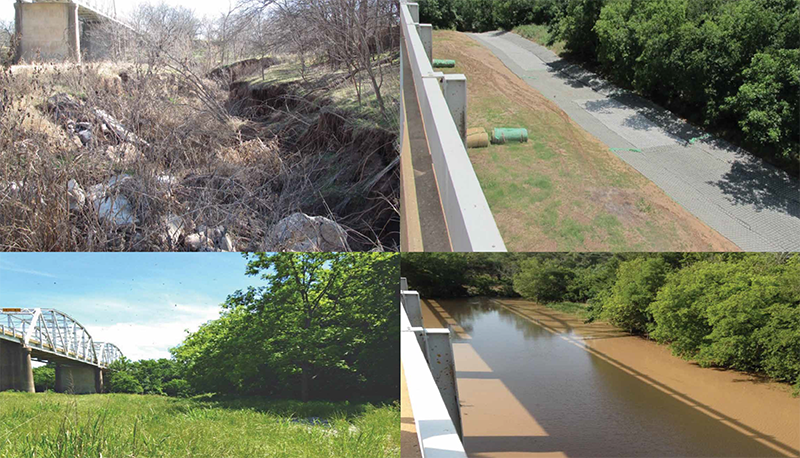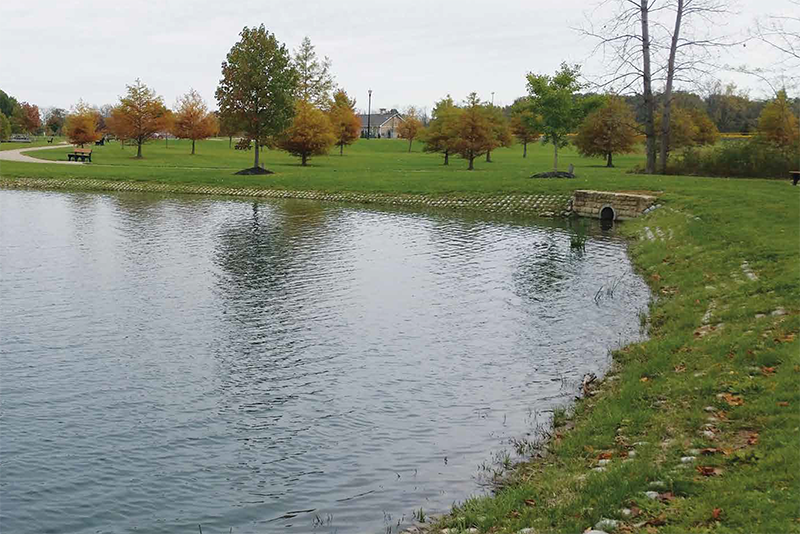 Shoreline, Stream, & Riverbank Erosion Control
Flexamat is a permanent solution to stop shoreline erosion while conforming to the landscape. Flexamat has high performance capabilities of 30 ft./sec and 24 psf. from day one of installation.
Reducing eroding sediment pollution, Flexamat offers safe maintenance of various shorelines by reinforcing natural vegetation and locking the shoreline permanently in place. Flexamat helps provide a stable walking surface to enhance safety and meet minimum slope requirements for various shorelines. The low profile of Flexamat prevents debris from catching the mat helping to keep the waterway open to positive flow. The roll design allows for Flexamat to be installed from an excavator when working directly on the shorelines is not feasible.
High performance capabilities of 30 ft./sec and 24 psf
Helps meet minimum slope requirements
Reinforces natural vegetation & locks the shoreline permanently in place
Offers safe maintenance of shorelines
Helps maintain positive flow of waterway
Reduces sediment pollution & environmental impact
Enhances safety for wildlife & others
Inlet & Outlet Erosion Protection
Flexamat offers a vegetated solution that is locked in place while allowing stormwater infiltration and energy dissipation around storm water pipes. Flexamat creates a safe surface for walking while being easy to maintain.
High performance capabilities of 30 ft./sec and 24 psf
Locked in place vegetated solution
Allows stormwater infiltration & energy dissipation
Safe to walk on
Blends with the landscape
Easy maintenance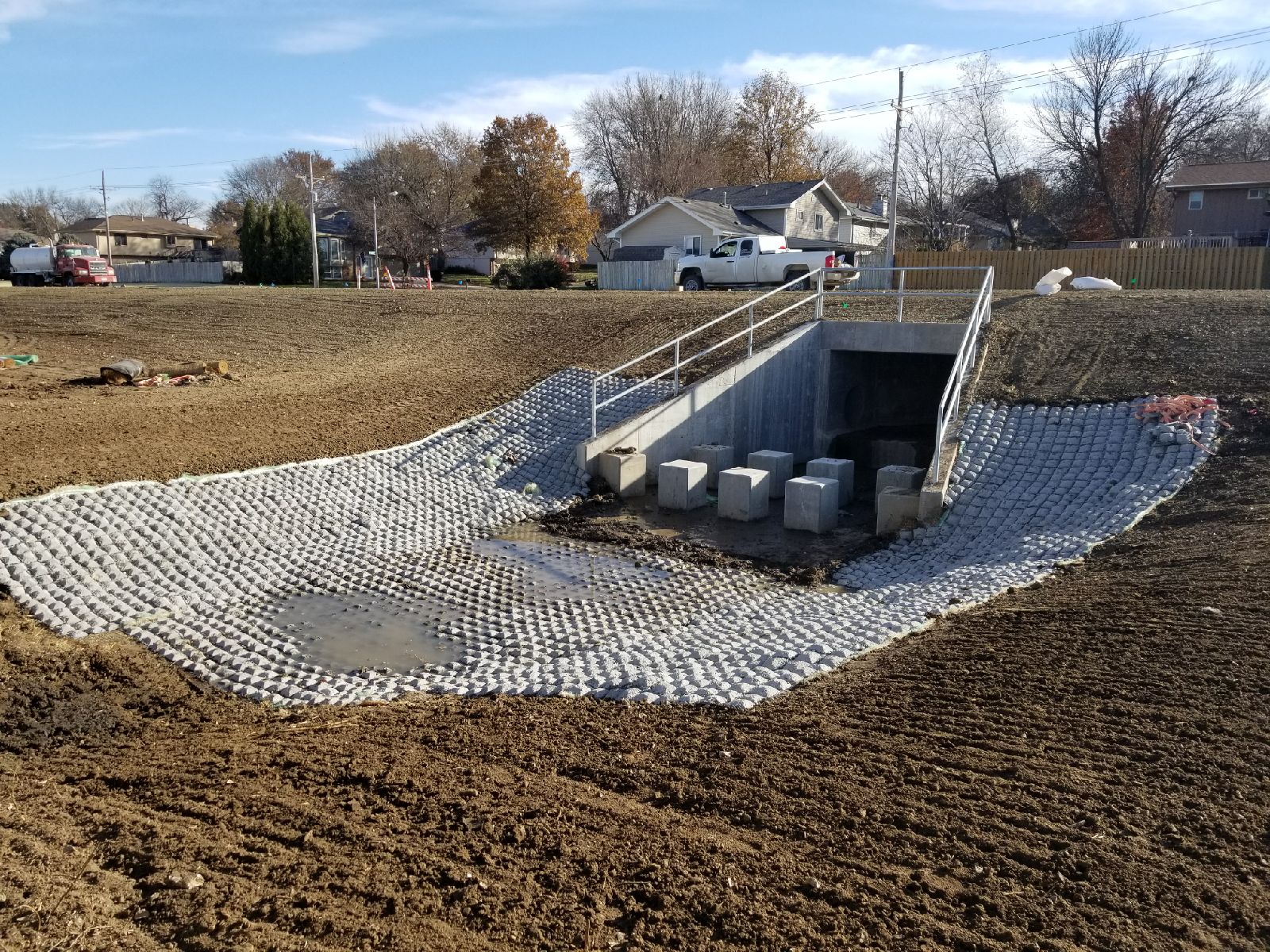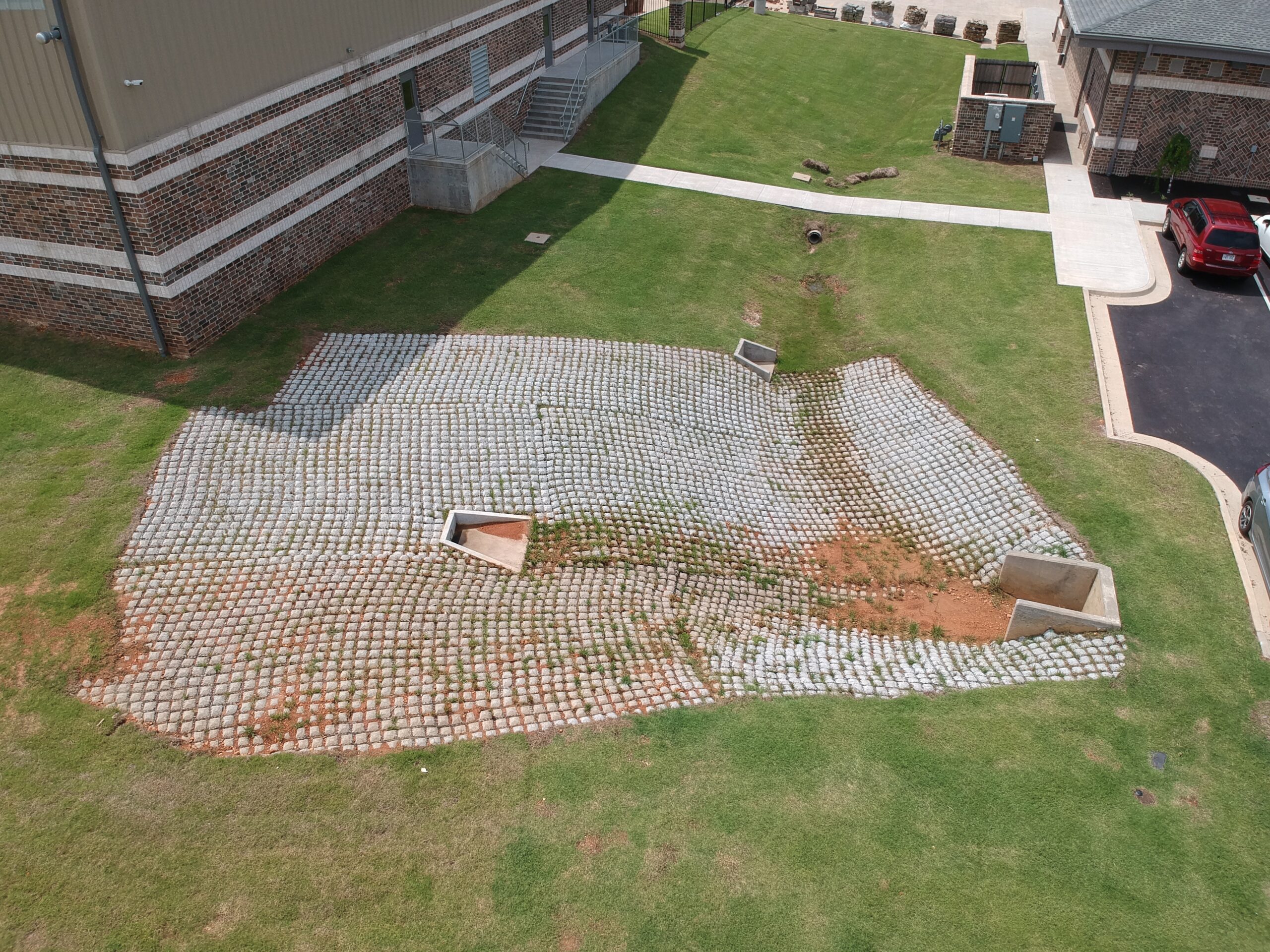 School Campus Erosion Control
Areas with concentrated flows are compounded with frequent disturbance by maintenance equipment that can lead to erosion issues around school campuses. Flexamat offers a permanent solution for storm water outlets, drainage ditches and detention/retention areas necessary from the large, impervious structures causing considerable storm runwater run off. Drainage areas are notoriously difficult to maintain but Flexamat enables safe maintenance of these areas.
Allows stormwater infiltration & energy dissipation
Provides safe & easy maintenance of drainage areas
Reduces