Complete The Circuit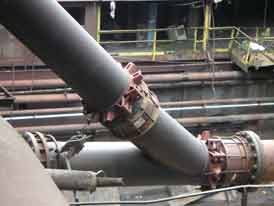 Location: Mingo Junction, OH
Problem
Contaminated water from the "BOF" cooling system is recycled from the treatment plant to the furnace in a complete circuit requiring various fittings and a substantial amount of pipe.
Solution
Lee Supply field technicians measured and fabricated an 18″ HDPE lateral, other fittings and pipe to specification.
Impact to Customer
New material reduces the need for frequent repair and replacement
Withstands corrosive slurry
Click below to download a printable PDF containing more details regarding this project.