Lee Supply Company is the Area's Leader in Sales of Pipe & Pumping Systems for 60 years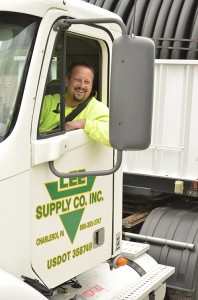 Lee Supply Company is a family owned and operated business that has been a leader in sales of pipe and pumping systems since 1954. We are the HDPE Specialists and provider of choice to many municipalities, construction companies, mines and environmental operations. We have the expertise and knowledgeable staff to meet our customers' unique and ever-changing needs, from traditional applications like water distribution and sewage services to highly specialized applications like horizontal directional drilling, slip lining, leachate and methane collection, gas extraction and water transport.
Whether your needs are as simple as renting equipment or a complex state-of-the-art system, we can help.
From the initial inquiry of providing all products, we'll work with you. We supply more than products, we supply depend on us!
Our commitment to excellence and unmatched customer focus means complete satisfaction. No wonder our customers are repeats!
Lee Supply Company operates by a Commitment Policy to assure our clients the best overall and exceptional performance and support possible. We value each of our clients and strive to meet their needs on a case by case basis. It is important for us to know who you are as a business, understand your exact needs, and help you achieve your goals in a timely, cost effect manner by offering you quality products, service, and solutions that super exceed your expectations and assure our mutual success!
Our services include:
Building a Valuable Partnership to Better Serve You

Lee Supply Company, Inc and Tyco-Grinnell have partnered to provide our customers with the best quality, service, and products in the industry. Lee Supply's extensive inventory and supply network, coupled with the dependability of Tyco-Grinnell piping systems, fittings and accessories maximizes capability and efficiency for our customers. Our mutual commitment is to bring value to our customers while reducing their total cost of ownership.
Together – We supply more than products, we supply solutions! Click here to read more about our partnership.